Leading the world in market share of automobile seatbelt material. The only company to manufacture nylon 66 airbag material. We hereby introduce to you our company's airbag/seatbelt material which has captivated the global market with meticulous technology that never fails to strive for perfection.

The Only Company in Korea to Produce Nylon & Polyester Airbags
Our company has been a key player in the highly-functional industrial materials industry since 1985. In particular, our materials for seatbelts to protect lives is a global-caliber product and market leader selected by the Ministry of Knowledge Economy. We are continuing with upholding our reputation of being Korea's first developer and provider of airbags made of nylon 66 and polyester material.
With a development launch in 2003, nylon 66 material boasts high-strength, shape stability and perfect exterior quality, and is highly reputable at both home and abroad. Nylon 66 material makes up 95% of the airbag market and it requires sophisticated radiation technology to develop this specialized industrial fiber. An explosive is used for an airbag to open up in a short amount of time at times of accidents, and for this, a strong material that can withstand high temperatures and pressure is necessary. Not only that, the airbag fabric is composed of a highly-dense structure. Thus, a zero-defect material close to medical fabric is required.
In order to produce a high-strength zero-defect material, optimal polymerized compounds must be selected and foreign matter during the manufacturing process must be minimized. Thus, the seatbelt and airbag material manufacturing capability of our company has its roots in producing high-strength properties and zero exterior defect fiber. This was the result of two years of research. Some Korean companies made efforts but failed due to complicated production procedures and technical difficulties. Domestic companies would import the entire fabric needed to produce airbags and process the fabric for sales. The fact that we internally developed a technology to manufacture such an item is what sets us apart.
Our company did not merely settle for the successful development of nylon 66 material and instead moved on to produce the polyester airbag material, a substitute for nylon 66, by cutting costs via ongoing R&D related to our material know-how. Through this feat, we became the sole Korean manufacturer to develop both nylon and polyester airbags.

Manufacturing & Supplying Capability of Fabric to End Product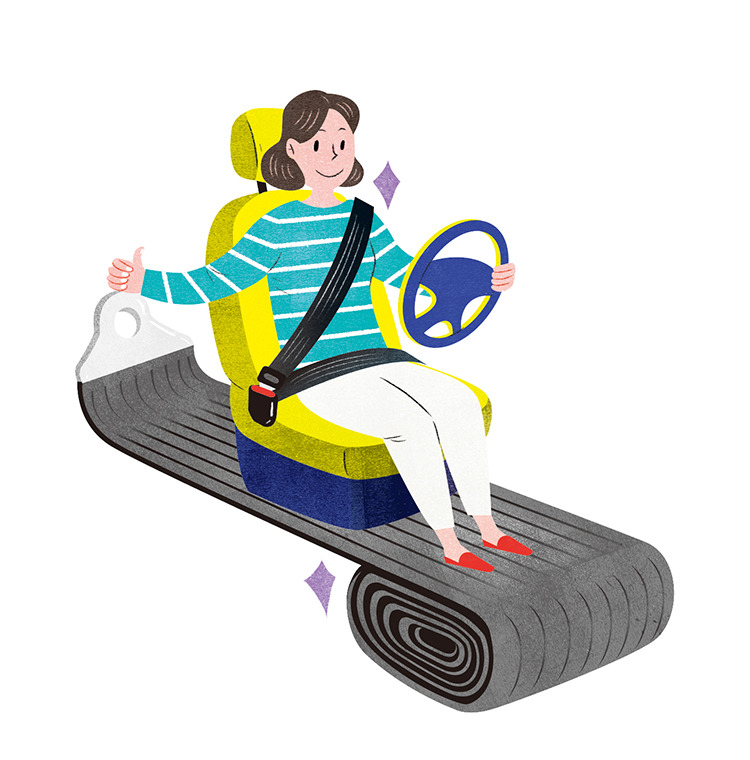 In 2011, we acquired GST(Global Safety Textiles), the biggest airbag material maker in the world. Since then, we've obtained the ability to manufacture and supply everything from fabric to airbag modules, helping us become leading technology provider in the airbag sector. GST provides products including fabric, cushions and OPW(One Piece Woven, fabric which does not require any sewing) to the automobile market through its production bases in 8 countries(Germany, Poland, Czech Republic, Romania, South Africa, America, Mexico and China).
GST has proficient aptitude throughout the entire process of airbag material manufacturing and processing from warping, weaving, coating, and cutting to sewing. In particular, the weaving and cutting technology ranks among the world's best.
The airbag market is also extremely large as airbag installation is mandatory for both drivers' seat and passengers' seat in the US, Europe and other advanced countries. At the same time, the rate of airbag installations is growing in developing countries, so the market is also increasing rapidly. Our company will target these regions to maintain our dominant position in the global airbag material market.
Written by | Gwon Oh-sang (Advertising Team 3 Assistant Manager)
Illustration by | Jeong Hyeon-su