Group News
[Corporate General] The first 'Meet the Management' for 2017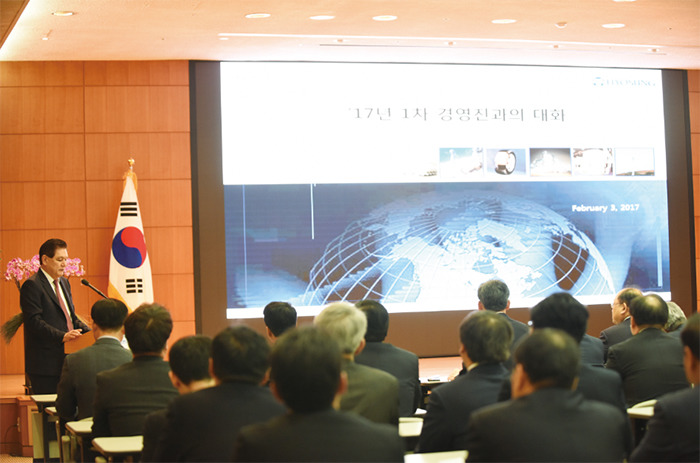 On February 3rd, the first 'Meet the Management' for 2017, was held in corporate headquarters in Mapo. Over 200 Directors and Team Managers from the Gyeong-in Area attended to listen to the corporate management status. Vice Chairman LEE Sang-woon provided his outlook on the recent developments of the global and domestic economy, and reviewed major business activities and achievements from 2016. Every Hyosung People is expected to be dedicated and committed to our 2017 business policy, "Evolution to an Authentic Global Corporation."
[Corporate General] Personnel training for protecting & managing trade secrects.
Our company held a security training on February 14th, at the corporate headquarters in Mapo, to prevent directors and employees from being exposed to security breaches including misappropriation or infringement of trade secrets. Directors and employees were presented with various cases of trade secrete misappropriations, and was provided with detailed strategies on how to protect and manage trade secrets. Each and every member of Hyosung should be dedicated and committed to protect our technologies developed by our own hands.

[Corporate General] Renewed On-line Training for 2017
Hyosung provides on-line training with each session commencing on the first of each month. In the renewal for 2017, the relation between expert/basic competence training was strengthened, and especially, 100 expert competence training courses are newly introduced in the fields of industry/machinery/facility, electrics/electronics, chemical engineering/chemistry and construction. A total sum of 660 courses are available including strategies and management, which will fulfill the thirst of employees for more opportunities of personal development. More courses are now available on mobile applications, to provide enhanced convenience to directors and employees throughout the course.

[Textile PG] Gumi Plant, Presentation of best practices of TPM work groups.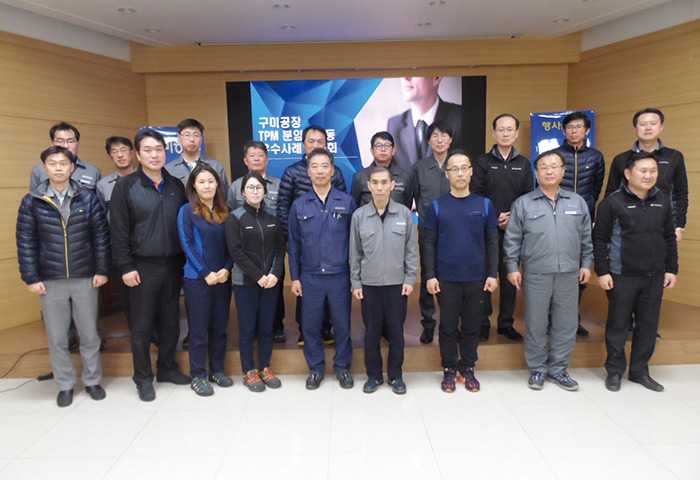 On February 14th, three production units of Gumi Plant held a presentation of best practices of TPM work groups. The attending directors and employees applauded their colleagues for the efforts they committed for the best practices, and every employee in attendance once again ensured their dedication. Gumi Plant announced its expectations to prevail as the 'Global Best Gumi Plant" by upgrading its TPM work group activities.

[Industrial Materials PG] Industrial Materials PG, held its performance sharing session for 1st Quarter of 2017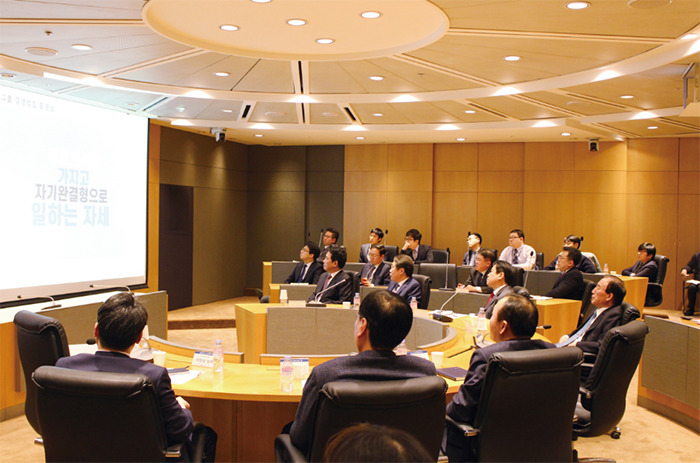 On February 17th, the Industrial Materials PG held its 1st quarter performance sharing session. In the attendance of directors and employees from corporate headquarters and the production group, last year's business achievements were reviewed and 2017's business goals were emphasized. It was a time for moral, by providing insight of the corporate business management policies and detailed implementation measures for each production unit of the PG.

[Chemicals PG] MOU on Construction of New Chemical Plant in Vietnam Signed.
On February 7th, Hyosung signed MOU for the construction of new chemical plant in Vietnam. Starting this year, Hyosung will construct a propane dehydrogenation (PDH) production plant, polypropylene (PP) plant, and liquefied petroleum gas (LPG) storage tank at the Cai Mep Industrial Zone in Ba Ria-Vung Tau Province of Vietnam. Hyosung has invested in Nhơn Trạch Industrial Zone of Vietnam since 2007, and has expanded its profits by manufacturing products such as spandex and tire cords.

[Chemicals PG] Yongyeon Plant, Delivering Management Messages during 2017 Workshop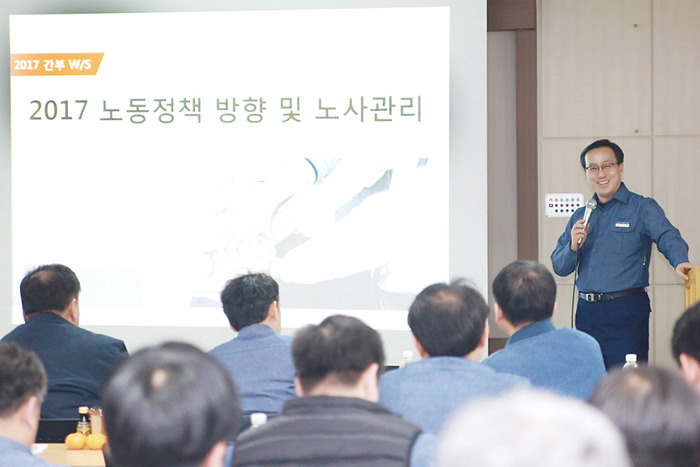 On February 9th, Yongyeon Plant held a workshop to deliver management policies. In the attendance of over 70 employees ranked as section chief or higher, overall factory manager CHO Doseon conducted a special lecture followed by a training session informing employees on the 2017 business and labor relations policies and HR policies. Attenders renewed their commitment to fulfill the 2017 business policy of "Evolution to an Authentic Global Corporation."

[Chemicals PG] Yongyeon Plant, Open Humanities Courses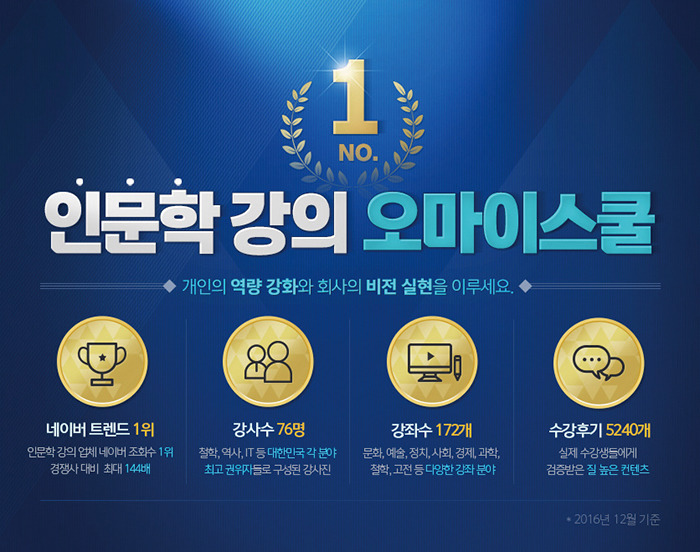 Yongyeon Plant made alliance with OHMYSCHOOL, an on-line humanity education supplier to allow all employees to freely access all available courses including history, culture, economy, and living. The access were granted on a first-come first-served basis from on-line applications through e-alimi, the internal communication application of Yongyeon Plant, and e-mails, and all available courses were granted before the due date of application. Each employee can take up to two courses a year. Yongyeon Plant is expecting to support its employees to achieve personal development in humanistic literacy.

[Power & Industrial Systems PG] Changwon Plant, Held its 2nd TPS Improvement Competition
On February 10th, the 2nd TPS Improvement Competition was held in the main building's auditorium in Changwon Plant. In the attendance of 70 directors and employees including MOON Seobcheol, Head of Power Systems PU, 10 groups presented their improvement activities in the final round. Throughout the competition, which was and exhibition of the vigorous efforts of Hyosung People to eliminate wastes and improve quality, participants vowed their continuous dedication to production innovation including TPS activities.

[Power & Industrial Systems PG] Hyosung Goodsprings PU, Won 'Outstanding Quality Staff' at Quality Technical Exchange for Power Generation.
Hyosung Goodsprings PU won 'Outstanding Quality Staff' at the Quality Technical Exchange for Power Generation hosted by KOMIPO (Korea Midland Power Co., Ltd.). During the exhibition held between the 8th and 9th of February in Changwon, Hyosung Goodsprings PU disclosed the 'Domestic Production of USC Class Boiler Water Feet Pumps' to introduce its prolific technology. The Quality Technical Exchange for Power Generation" is held to provide a platform to share quality technology of power generation, and define the recent trends of new technologies including, performance improvement in coal fired power generating's environmental facilities.

[Information & Communication PG] Gumi Plant, Evolution to a Smart Factory
Gumi Plant initiated a 3 stage plan in 2015 which will be implemented throughout 2020. The plan focuses on evolving to a 'Smart Factory' including measures to adopt ICT with wireless communication devices on every production line and facility, including our partners, and on every product and module manufactured by the factory. The Smart Factory, optimized to produce small quantity batch production of large all-in-one printers is anticipated to produce customized products with the minimal cost and time by integrating the entire process with IoT (Internet of Things) and Big Data.

[Power & Industrial Systems PG] Hyosung Information Systems PU, Supply All-Flash Storage to LS CNS
Hyosung Information Systems PU successfully supplied its All-Flash Storage to LS Cable & Systems Co., Ltd. LS CNS, including 7 overseas corporations, recently upgraded its ERP System (corporate asset management system). Monitoring major programs and modules which consume over one hour to process, the execution time improved over 67% and in several cases, performances have improved over ten times.

[Power & Industrial Systems PG] Nautilus Hyosung PU, Held Cultural Course for Spouses 2017.
Nautilus Hyosung PU held Cultural Course for Spouses 2017, a new family participating GWP program. During the two hour event held on February 25th, 20 spouses of the employees and married women employees of Nautilus Hyosung participated in 'Make a diffuser for a more emotional household'. The event was fully funded by Nautilus Hyosung, and draw high anticipation among participants by taking home the diffusers they had made.

[Independent Corporations] The Class Hyosung, a Mercedes-Benz Dealer, Open Guri Showroom
The Class Hyosung, a Mercedes-Benz Dealer, newly opened its Guri Showroom. The Guri Showroom is the first and only official showroom for Mercedes Benz in the eastern Gyeonggi area, and is expected to satisfy the rising demand in the Gyeonggi area and potentially expand its key market to Seoul. BAE Ki-yeong, the President of The Class Hyosung commented that "We will conduct aggressive marketing activities to allow customers to have a Mercedes-Benz experience."

[Power & Industrial Systems PG] Galaxia Communications, Launch Mobile Application "Money Tree"
Galaxia Communications launched its new mobile application "Money Tree". Money Tree allows users to transfer mobile gift cards issued by department stores to gift cards issued by other department stores or convenient store gift cards. Users can cash in mobile department store gift cards to Money Tree Cash, and purchase other department store gift cards or use their Money Tree Cash at Seven Eleven. Users can also purchase mobile cash equivalents from numbers of offline stores.

[Global Offices] Nautilus Hyosung America Inc. opens new service center in US.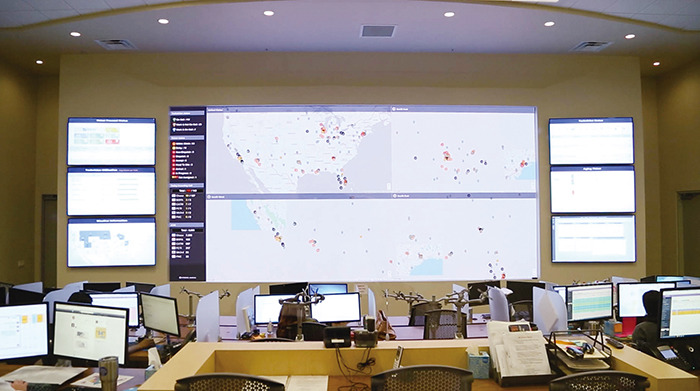 Nautilus Hyosung America Inc. opened a new service center in US. The new service center is a 24 hour center for the convenience of local customers and site service engineers, providing around the clock communication between local service engineers and employees of the service center to speed-up real time service. In 2017, Nautilus Hyosung America Inc. is expected to expand its service areas up to 42 states, and its service engineer staff up to 420 engineers to manage over than 16,000 ATMs all over America.
Social Contribution

Hyosung Vietnam, Donates Mini Library to Local Elementary School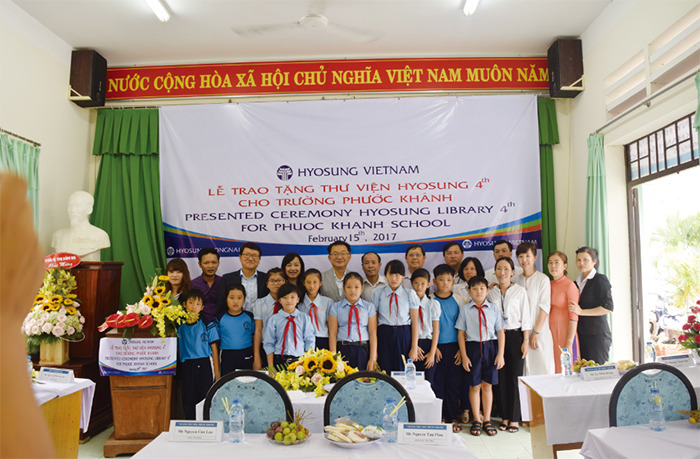 On February 15th, Hyosung Vietnam Division donated its 4th library to Khanh elementary school located in the Dong Nai province. Directors and employees of Vietnam Division cleaned and organized inside and around the library and donated books and computers to let the local children pursue their dreams. Ambassador of KOTRA, Deputy Minister of Dong Nai Foreign Affairs, Deputy Chairman of Nhơn Trạch People's Committee, representatives from the Office of Education of Nhơn Trạch, attended the donation ceremony. Teachers and students of the elementary school expressed their gratitude for the help from Hyosung in a help-needing environment lacking educational and cultural resources.

Changwon Plant, 2017 1H Blood Donation Event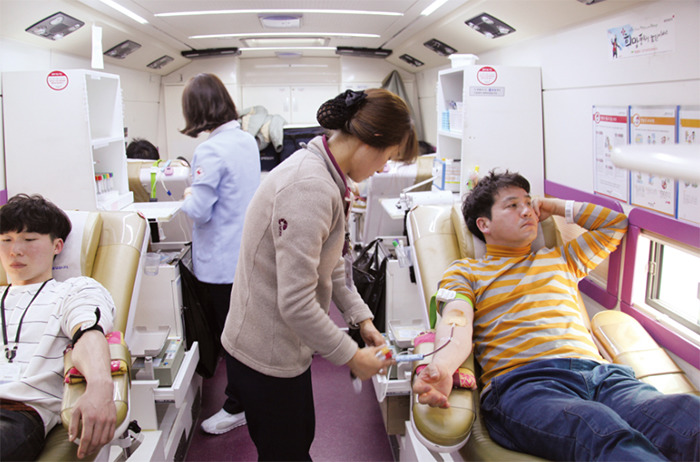 From the 15th to the 17th of February, members of Changwon Plant donated their blood as part of the 2017 1st Half Blood Donation Event in seven blood donor buses located in front of canteens. Changwon Plant holds this event twice each year to allow its directors and employees to easily donate blood. During this event, over 230 members participated, doubling the number of blood donors from the previous event, to share the love of life, and 132 blood certificates were also donated. The blood certificates will be provided to directors, employees and their loved ones who are in need of emergency blood transfer.

Anyang Plant, Cleaning Anyang-cheon.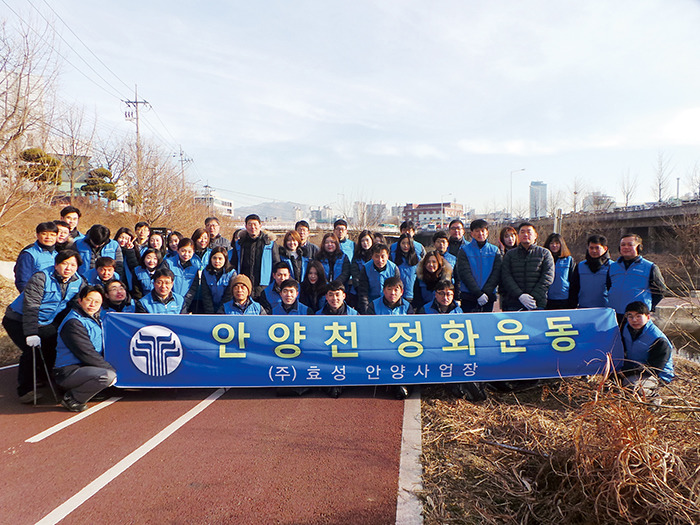 On February 21st, Anyang plant cleaned the vicinity of Anyang-cheon. Following the lead of JANG Doo-won, President of Hyosung R&C Center, over 60 employees of Anyang Plant, Hyosung R&C Center, Power & Industrial Systems PU R&D Center, Hyosung HR Development Center and newly employed members of Interior PU, currently under training at the HR Development Center, shared their efforts with the local community. Starting from the back gate of Anyang Plant, participants followed Anyang-cheon all the way to the riverside of Hoan-gyo and made the vicinity a cleaner place.