[Inside Hyosung People] Carefully Listening for the Best Quality
매거진/Webzine(English)
2017.03.17 15:21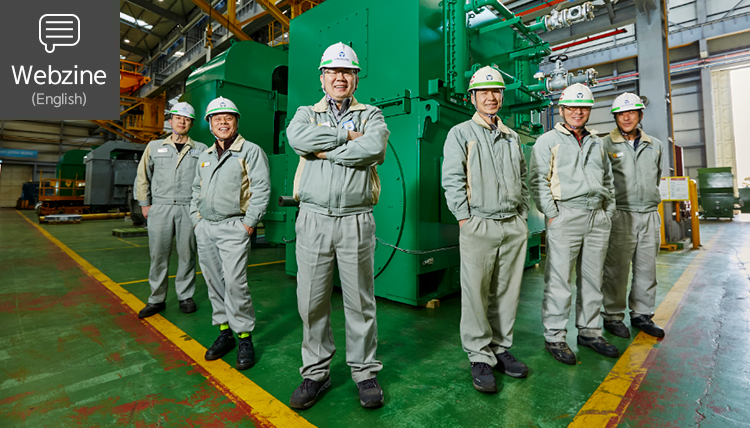 There is a saying "Pay your 'shimhyeol'(심혈)". It literally means "Concentrate with your entire heart and full strength". Here are people who listen carefully just as paying their shimhyeol to satisfy customers with the best possible quality. This is the story of Industrial Machinery PU Changwon Plant's Quality Control Team, and foreman KIM Joo-seob.
Solution to Customer Satisfaction, Found from the Voice of the Field.
His 29 years in the frontline of production was devoted secure delivery with no customer complaints. He understands that customer satisfaction is derived by and only by products of great quality, and performed attending inspections and final product tests at the most stringent levels. His body of work, accumulated throughout years became his know-how and leading his colleagues of Quality Control Team of Industrial Machinery PU Changwon Plant, Foreman KIM Joo-seob is moving one step closer to 100% customer satisfaction.
"I joined Hyosung in 1988, the midst of my youth, and have been pursuing a single goal, 'the best quality'. This is the only road to zero customer complaint. It's not only me. All of my team members share this mentality and provide their 100% every day."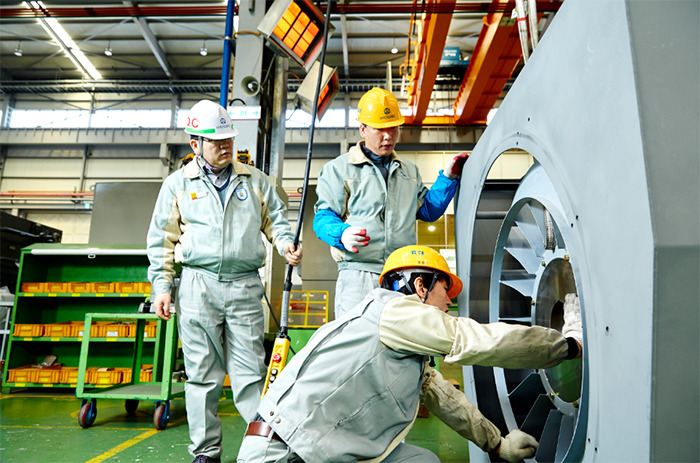 His largest emphasis is to think at customer's perspective, and that is why he keeps his eyes and ears open wide toward customers, and pays attention to their opinions during inspections. To satisfy a customer, we have to know what makes the customer not satisfied. Foreman KIM Joo-seob believes that improving customer complaints one by one is the key to produce premium quality.
"I recently saw the inaugural speech of our new chairman, and he said 'Customers are the largest existence to us, and they are our teachers. Customers have the answers to all of our questions." I always believe that our team and our company exist for our customers. That is why our ultimate goal is to deliver perfect products. And it is also the reason to keep on listening to customer's voice."
Customer Opinions are Nutrition for Ideas
With its prolific body of work for attending inspections, Changwon Plant's quality control team does not neglect a single comment from every customer. The smallest voice of customer can evolve into new ideas. Foreman KIM Joo-seob had won "Proposal of the month" and "Best Proposal Award" multiple times, and has registered two patents, a utility model and a design patent, and it can only be assumed, that such track record is the product of listening to customer voices.
"I actually get most of my ideas from what customers point out during attending inspections. Customers are the ones who exactly knows what deficiencies our products have from their experience of actually using them. Listening to their voices allowed me to raise many quality proposals."
Foreman KIM Joo-seob considers that the eliminating quality issues by improving the product release process is benefits from the concentration of the quality control team on customer voices. He listens to customer voices, liaises with engineering, production officers, and finds solutions to prevent any repeating of quality problems. And that is what he pledges to continue to do.
Our Ears are Wide Open in the Field.
'Customer Voice' is not the only necessary solution for the best quality. Adding up opinions of colleagues is also essential to achieve best quality and customer satisfaction. Opening up to each other to hear colleagues' voices and communicate with each other. Foreman KIM Joo-seob says that this is nothing new for Changwon Plant which is also referred as a "People Oriented Workplace".
In the field, I believe communication has the greatest importance. If employees do not communicate and do not listen to each other, problems would be buried and concealed, regardless to the size of the problem. That is why I always listen to my teammates and address even the most minor quality problem to production and engineering staff to communicate with them and find an internal solution and improvement."
From Beginning to End, for Customers.
To perfectly identify customer needs and achieve zero complaints, you have perfectly read the customer's mind, there is no shortcut. To read a customer's mind, it is important to maintain a close relationship. This is why the 800 customer contacts saved on Foreman KIM Joo-seob's phone feels like an invincible Excalibur. His passion to satisfy customers even over a single phone call is the passion of the entire quality control team, moreover, the passion of the entire Changwon Plant. Listening to the voices of customers and partners, and always emphasizing communication with colleagues, this is the true figure of Hyosung.
"All of our questions can be answered by customers. Listening to the voice of customers is the alpha and omega of our business activities. We also have to listen to voices from the field. The difficulty, and points of improvement directly coming from the field are the seeds to technological development and quality innovation. We have to establish a culture where anyone can raise even the smallest idea and listen to each other with no prejudice"
From the Inaugural Speech of Chairman Hyun-Joon Cho, Jan. 2017.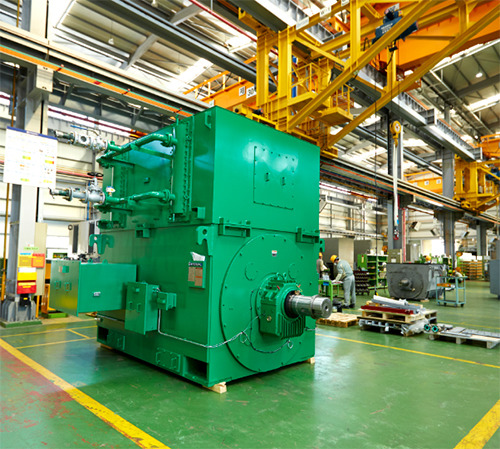 Written by | BAEK Hyeon-joo
Photo | HAN Soo-jeong (Day40 Studio)