[Passion of Fingertips] A Transformation of 'Carbon Fiber', Customizing.
매거진/Webzine(English)
2017.03.17 15:21
Hyosung has preemptively responded to customer needs by launching differentiated carbon fiber products and its own brand TANSOMEⓇ. TANSOMEⓇ is a carbon fiber prospected to be a core material in the future.
Carbon Fiber, the Core Material of the Future
Since completing is production facilities in 2013, Jeonju Plant has supplied carbon fiber to domestic and overseas markets. Carbon Fiber is expected to be the core material of the future because of its significant advantages over other materials in efficiency, economic feasibility and environmental friendliness.
The technology concentrated Carbon Fiber has 92% carbon content, is 25% lighter than Steel, ten times stronger than steel, and its elasticity exceeds seven times of that of carbon. Moreover, it is resistant to rust, and absorbs impact energy which allows carbon fiber to be highly adoptive to and applied in various industries including, aerodynamics, land & sea transportation, civil engineering and construction. The simple manufacturing process contributes to reducing production cost, and eventually leads to the current expanding demand within the global market.
"Considering energy efficiency is one of the hottest topic around the world, Carbon Fiber is gaining attention as a core material to pursue weight reduction. It is also assessed as an environmentally friendly future energy material."
Valuable Result from Listening to Market Demand
Hyosung is equipped with global technology in manufacturing Carbon Fiber, and has been pursuing to maximize the advantages of Carbon Fiber satisfying customer needs. The applicability of Carbon Fiber has been explored not only in industrial usage, but in leisure, medical, and art. Among all, the high-pressure container market is the market highly expected to expand in demand and growth. Our technology also complies with the requirements of the high-pressure CNG container markets which was seeking for a lighter, stronger and safer material.
"Entering the high-pressure CNG container market with Carbon Fiber was an uphill battle. The certification process was lingering and extremely stringent. Even during these challenges, we listened to customer needs. The relatively greater strength of our products complied with customer needs, and we were able to expect growth possibilities and market demand."
Facing the high entry barrier, the expectations for growth that staff members had only grew. Compared to diesel and LPG, CNG is safer and more environmentally friendly with reduced air pollution, which anticipated increased demand. It is not so far that Hyosung's efforts in analyzing and identifying the global market trend and customer needs, presenting new products, committing to quality innovation pay off in a successful result.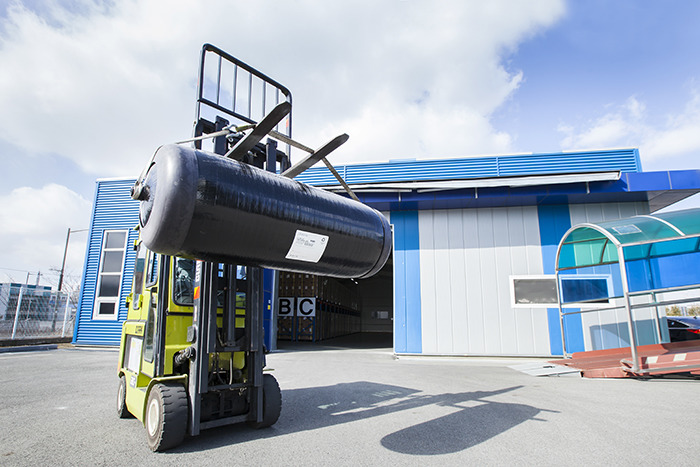 One Step Closer to Customers with Customized, Light and Safe Carbon Fiber
Opportunities are "made" not granted. Manufacturing high-pressure CNG containers with carbon fiber perfects the product with lighter weight and safer transportation. Hyosung recognized customer needs and focused on developing a uniform product with no deficiency in strength. This dedication to develop compliant to the market needs lead to successfully producing products corresponding with customers' specifications.
"Products applying Carbon Fiber can be considered as evolutions. They are lighter than existing products wrapped around with aluminum or steel, and is easier to transport which allows significant cost savings in logistics. It's stronger but lighter. Moreover, its safety is the greatest comparative advantage."
It took over one year to attain its certificate for transportation. If the development was terminated at that point, a better product would have not seen light. The quality innovation attacking customer needs resulted in the development of high-pressure CNG containers. Eventually, the product attained accreditation from customers in its weight, strength and safety, which represents the recognition of technology.
Green Future, Cultivated from Technology
On the other hand, Hyosung's technology contributed in making the opportunity to cultivate a green future. The lighter high-pressure CNG container made with Carbon Fiber materializes fuel cost reduction, and moreover facilitates air pollution reduction and contributes to a green future.
"We will continue to monitor the Carbon Fiber Composite Material Market, including high-pressure containers, and will not stop to promptly respond to the voice of customers, satisfy their needs, and produce customized carbon fibers beneficial to the environment."
Carbon Fiber, an emerging future core material, combined with the passion of Hyosung People who relentlessly pursue innovation and challenges for customer satisfaction, is now facing a turning point. One can only expect what will be the limit when our technology and customer needs coincides.
Written by | SHIN Kyeong-hwa
Photo | PARK Hae-joo (Day40 Studio)