[Global Focus] Hyosung Corporation India Pvt. Ltd., Pioneering the Land of Opportunities
매거진/Webzine(English)
2017.03.17 15:21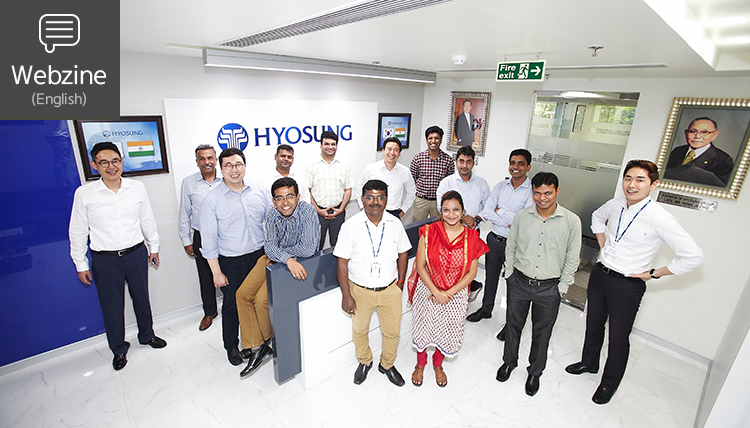 India, an emerging economy with limitless possibilities. Hyosung Corporation India Pvt. Ltd. (the "Hyosung India") has anchored the Indian market by listening to the needs of local customers and communicating with local employees since its opening in 2007.

Hyosung Corporation India Pvt. Ltd.
Q What is Hyosung Corporation India Pvt. Ltd.?
In 2007, Hyosung opened a local office in New Delhi, the capital of India. This office was elevated to a corporate branch office in 2012, and is currently attacking the Indian market with 4 residential officers, and 33 local employees. Hyosung India has secured customers for major products of Spandex, GIS, Tire Cords and is expanding customers for Aramid, Carbon Fiber, Polyester Yarn, Steel & Metal, Trading and Chemical Products. In 2017, Hyosung India is expanding its operations to LED, Energy Storage Systems (ESS), and Trading Goods. In particular, the monthly sales of spandex, once 90 tons in 2007, has grown up to 1,000 tons today.
Q What is the Strategic Know-how of Hyosung India to attach the local market?
We suggest a comprehensive VIU (Value In Use) to our customers. We display the values they will obtain from the use of our products, and gain their attention and respect. Our ultimate goal is to sustain a long-term partnership by achieving customer satisfaction through improved product quality.
Creora has earned a good reputation from Indian Textile suppliers. We have established business posts spread around India in 10 major regions including Delhi, Mumbai and Kolkata. These business posts provides a prompt and direct response to all matters requested by customers including technical and service issues. Capitalizing from these efforts, Creora has a market share of 55% in India's Spandex market.
There are two mainstream market strategies for Power Systems PU. A direct sales strategy after breaking down by customer and region, and a project build-up strategy starting from basic engineering by collaborating with consultant firms that plan projects. We emphasize on our exceptional reference list in India's Ultra High Voltage (UHV) Circuit Breaker market and our commitment to always help customers with our sales staff's customer response. Since 2016, India is strategizing on obtaining technology of and operating ESS, where Hyosung India is also increasing its attention and efforts to enter this emerging market.
Q What Products are Hyosung India's Main Target of Sales?
For Spandex, one of our key products, Hyosung has a market share of over 55% in the Indian Spandex Market, and the aggregated annual export revenue for GIS is over 120 million Korean Won. For tire cords, benefiting from our efforts to obtain approvals from local tire manufactures, we are expecting to have a revenue around 20 million dollars this year, which is anticipated to increase up to 32 million dollars in 2018. Nylon, Polyester Yarn, Aramid, Steel & Metal, Chemical Products are all expected to have an aggregated revenue of 270 million dollars in 2017.
Hyosung India is preparing to expand new industries to the extent of Polyketone, PP, LED products, and new trading items including, importing fertilizers from Hyosung and other countries to India, and exporting coal and fishery from India to other countries. We are expecting new revenues from trading new products, and we are planning to expand to a full-scale trading operation.
Q What are Hyosung India's Efforts to Satisfy Customers?
We have to identify what obstacles that customers encounter on site, and suggest remedies and collaborate in customer's efforts to develop products and enhance quality, and ultimately be recognized as their business partners. We have to give them the impression that we are here to help, so customers can come to us and discuss their problems. Early last February, the owner of Vardhman, our biggest spandex partner in India, attended a joint-product-development meeting which is an indication of establishing a successful relationship. Hyosung India has earned customers' trust and satisfaction to the extent where customers, initially negligent to collaborate with Hyosung, are now asking us to visit their facilities and help them solve their problems. Our proactive diagnosis and problem solving convinced customers to disclose their production site and now we are capable to proceed with in-depth discussion on product management and any problems arising out of production.
Q Isn't it Difficult to Work with Local Employees from Different Cultures?
The local employees of Hyosung India have direct contact with customers in the front field of sales. We are from different cultures, but our differences are settled through close and transparent communication. When working with a regional representative stationed 1,500 – 2,000 kilometers away from New Delhi, several major decision makings are required, yet we delegate a great portion of the responsibility and authority to the local employee and provide an environment for local employees to open up and come to us with their problems though various channels of mobile messengers, e-mails, phone or operation support from Korean residential officers. E-mail correspondences between local employees and customers are disclosed to residential officers and staff members of HQ, to provide a prompt and transparent line of communication.
Q What do you find unique of the Indian Market from Operating Business in India?
If you start looking on the down side, India has one of the harshest business environment you can expect. However, comparing with local businesses, businesses coming from outside of India do not lack competitiveness. First of all, local businesses in India are far behind the global standards in most of the major categories of business operation including, quality control, customer management and customer service. For Hyosung, our reputation as a global enterprise itself, let alone brings a head start in competitiveness than local businesses. The investment environment, daily living conditions and stiffness induced by the bureaucrat society are significant reasons why it is difficult to invest in India. But these circumstances are not only subjected to Hyosung, other global competitors encounter the same harsh circumstances, and I am sure that Hyosung can adapt to and succeed in India.

Fresh News from Hyosung Inida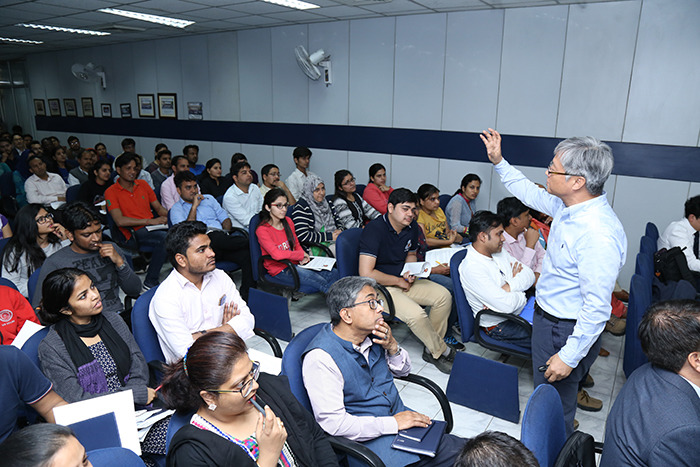 Leave Hyosung's Mark at ITT
On February 21st, President PARK Joon-hyeong, head of Chemical PG visited Indian Institute of Technology Delhi (the "ITT") and introduced Hyosung to the students and faculty of ITT. In the attendance of 100 professors, students, and representatives from governmental investment institutes, Mr. PARK introduced POK products and lectured on the mindset for a chemical engineer. ITT is one of the most respected global educational institute in India, with over 8,000 students on its Delhi campus, and 1,000 undergraduates & graduates and 25 professors in the Department of Chemical Engineering. During the meeting session with professors after the special lecture, methods to exchange and collaborate in technology between Hyosung and ITT were discussed, with commitments from both sides to maintain and develop their partnership.

Mini Interview - PARK Dongseong, President, Hyosung India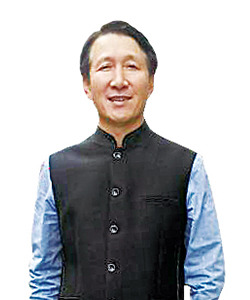 People refer to India as a place where "There is nothing you can do, and nothing you can't do." Diversity is found in all aspects of India including society, and culture, and this trait repels investors to enter the Indian market. It is easy to observe global competitors to fall back in competition due to their prejudice on India. I found this as an opportunity for Hyosung. If we can find ideas to attack the small openings where competitors lack of devotion, I believe that we can enter new markets, Hyosung has not executed in the Korean Market. Hyosung India will be the sound core in sustaining Hyosung's dominance in prevailing items, and developing new business items.
Hyosung India have established business posts spread around India in 10 major regions including Delhi, Mumbai and Kolkata. These business posts provides a prompt and intimate response to all matters requested by customers including technical and service issues.
JEONG Lee | Public Relations Team 3